We make sure that your success is a major talking point!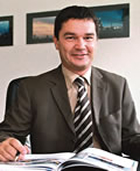 The success of your business depends to a large extent on a good reputation.
An excellent reputation does not only have the effect of a loadstone on customers and talented employees. It also promotes turnover and serves as a "hidden reserve" in a time of crisis.
In order to strengthen your company's success sustainably, you need to communicate your business story continuously both outwards and inwards.
Therefore you are in need of journalistic competence. Because without a thorough target group- and media-relevant editing, your message will be lost in the daily flood of information. As skilled journalists, we are aware of editorial departments' and target groups' expectations.
For many years we have successfully provided credible media coverage, complete corporate publishing and have staged effective PR-events. Thanks for your interest.
I am looking forward to your request.
Yours sincerely
Christoph Steinhauer